Please use the above buttons to find out more about
Bowen Therapy
Equine Bowen Therapy
Canine Bowen Therapy
Saddle Fitting
Equissage
Equissage massage therapy is used mainly for two reasons: to rapidly bring your horse back to optimum fitness when it has been working hard, or to actively help in its recovery from illness.
Equissage is a unique 'Cycloid' massage treatment carried out with a hand massage unit, or with a massage pad easily secured by a breast and belly girth and D rings. Willow (pictured) is demonstrating!
'Cycloid' massage was originally developed for humans and incorporates a unique three way massage which helps to stimulate circulation to affected areas and encourages the healing process for common conditions such as haematomas, pulled ligaments and swellings. Here is a fuller list of its benefits:
| | |
| --- | --- |
| Local blood circulation | Venous drainage |
| Releasing tension | Lymphatic drainage and swelling reductions |
| Joint mobility | Respiratory conditions |
| Pulled ligaments, sore shins, swollen knees | Foot, joint and tendon problems |
| Pre-race conditioning and after-race stiffness | Sore and cold backs |
| Lactic acid, fibrinogen and vertebrae problems | |
World No 1 Event Rider William Fox-Pitt says:
"I have used the Equissage pad for more than two years and have found it to be extremely valuable. It undoubtedly improves the horses' performance. I use the pad for warming up the horses before exercise, and put it on in the afternoon to help with any stiffness and lactic acid build-up that occurs after strenuous exercise. It provides the horses with gentle comfort and relaxation"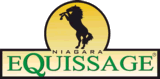 For other information and more testimonials, please visit www.equissage.co.uk.