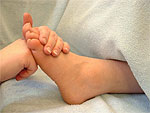 Reflexology
The History of Reflexology
Reflexology is an ancient healing therapy which was practised thousands of years ago by the Chinese and Egyptians. It was also known to some of the primitive tribes of Africa and to the Red Indians.
Reflexology was introduced to the Western World in 1913 by Dr William Fitzgerald, an American ear, nose and throat surgeon, and was later refined by Eunice Ingham in the 1930ís.
What is Reflexology?
Reflexology is a natural healing therapy involving no medication or drugs. It is based on the principle that every organ, system and part of the body has a corresponding reflex area or zone in the feet. By applying gentle but firm pressure to these reflexes, the bodyís natural energy flow is stimulated, which can help release any blockages along these energy pathways. This relaxes tension and improves blood supply, which, because circulation is improved, subsequently helps the elimination of toxins and waste accumulated within the tissues and cells of the body. It also helps bring vital nutrients and oxygen to the cells. Thus the free flow of energy restores balance to the whole body. This gentle therapy encourages the body to heal itself at its own pace.
What happens when I have a Reflexology Treatment?
Your first visit will be slightly longer than subsequent treatments, because it is one of assessment. A general medical history and details of lifestyle, diet etc are noted. Your feet will be examined and any sore or sensitive areas also noted. During the treatment the feet are given a calming massage. Reflexology may be carried out on the hands where conditions prevent treatment being performed on the feet. Many people have a feeling of well-being and relaxation after a treatment, which in itself is of great benefit and reduces stress and tension.
Reflexology can also be used as a preventative measure in that it strengthens the immune system in general.
What conditions can be treated?
Reflexology has been effective in treating many acute and chronic conditions, including:
| | |
| --- | --- |
| Back pain | Asthma |
| Allergies | Insomnia |
| Sinusitis | Skin disorders |
| Migraine | PMT |
| Menstrual problems | Arthritis |
| Digestive problems | ...and many other conditions including stress |
Reflexology is safe for people of all ages, including children and the elderly.
How many treatments will I need?
A course of treatment will vary according to each individualís needs, how long a particular condition has lasted, and how quickly the body is able to respond. An average might be six to eight treatments, but this can vary. Follow-up sessions may be required in order to maintain the sense of well-being. An increasing number of people are using Reflexology and are finding that it marks the turning point in their state of health, and that their body feels more relaxed and balanced.
Where is the treatment carried out?
I am fully mobile and can carry out the treatment in your own home, or you can come to Stone Cottage where I have a small but comfortable and well-equipped treatment room.
---